Canadian communities across Canada have deep roots in the cannabis world—and no, that's not just a play on words. Countless craft and microgrowers throughout the nation have spent years cultivating the best cannabis the country has to offer. Artisan Batch was created to bring these growers to the national stage—giving small batches big reputations.
krft Cannabis takes the pride of the east coast and infuses it into their product. Situated in George's Brook, Newfoundland, krft has spent the last five years growing uniquely phenohunted strains with exceptional terpene profiles and high THC potential. They boast a rare genetic portfolio, making krft Cannabis unlike anything else Canadians have experienced.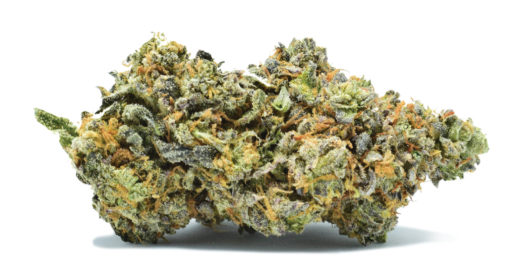 "We aim to achieve a higher standard, continuous improvement, and innovation."
Carefully handcrafted in Newfoundland, krft cannabis is "inspired by the bold, natural, and raw environment" of the province. Each strain is grown in krft's 5,000 sq.ft low-carbon facility, specially designed to grow premium cannabis in small batches.
krft grows their plants hydroponically indoors, using Eazy Grow coco pyramids. They're then hang dried and cold cured, burped every day for 21 days to let moisture and CO2 to escape the jars. From there, krft's dedicated and passionate team hand trims each plant to keep the buds intact, stunning, and poised for consumers.
"We aim to achieve a higher standard, continuous improvement, and innovation," says Master Grower Nick Langor. "Real krft cannabis."
Because krft Cannabis is grown in a clean, sterile environment, following Good Production Practices and Standard Operating Procedures, there's no need for antimicrobial treatment on their products.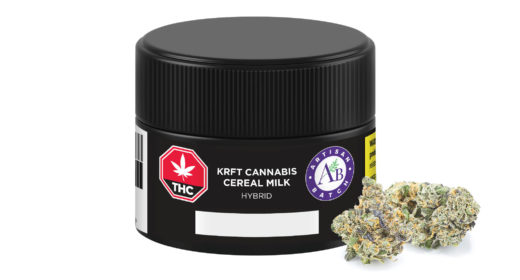 krft Cannabis Cereal Milk
One of the unique strains krft grows is Cereal Milk, which will be available through Artisan Batch. This rare and evenly balanced hybrid strain is a cross between Y Life (Cookies x Cherry Pie) and Snowman, a uniquely phenohunted strain.
Thanks to being carefully hand-trimmed, Cereal Milk has beautiful dark green and purple heart-shaped buds, dusted in sugary trichomes. The strain's flavour profile reminds you of the fruity milk leftover after your morning bowl of breakfast cereal.
"This cultivar was uniquely selected by us and for good reason," says Langor. "It is a truly incredible experience to grow and consume. We are proud to introduce Cereal Milk and many more in the future, setting the standard for ultra-premium krft Cannabis."
Myrcene, limonene, and caryophyllene lend Cereal Milk creamy berry and fruity citrus flavours with hints of gassy notes. This strain features 20-26% THC and <1% CBD.
krft Cannabis Cereal Milk will be available in 3.5 g jars through Artisan Batch in the coming months, so make sure you keep an eye out in your area. Ask your local budtender about availability!
If you want to see more from krft Cannabis, you can visit their website at www.krft.ca, follow them on Twitter @krftCannabis, or on Instagram @krft.ca.