Stuck on holiday shopping? Looking for some ideas to spice up your gift giving this year? Gifting cannabis can be a great way to support local and give people something they'll really love. But we know cannabis is not a one-size-fits-all product, so knowing what to buy can be tricky.
That's why we've put together a one-of-a-kind gift guide for the different kinds of consumers in your life! Take a look and see if you know anyone who fits the list.

For the CBD Lover
Consuming cannabis isn't always about experiencing the psychoactive effects of THC. Many people enjoy the benefits of CBD, which is why CBD-dominant products like Wana Sour Gummies Pomegranate Blueberry Acai are a great choice for them! These gummies have 5 mg of THC and 25 mg of CBD per gummie, and they're vegan and gluten-free. You can buy these tasty gummies or other Wana Gummies, at your local retailer!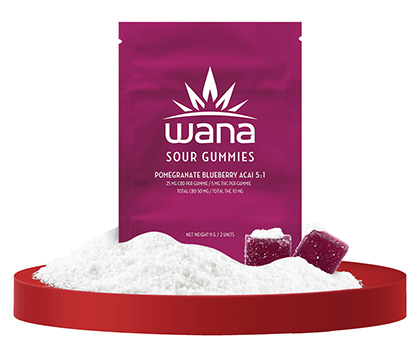 For the Cannasseur
Cannasseurs often have more discerning palates, looking for strains with exceptional genetics and unique terpene profiles. Artisan Batch distributes premium small-batch craft cannabis from across the country, focusing on strains with unique terpene profiles.
Consider something like Purplefarm Genetics Sour Glue, a hybrid strain with 20-26% THC. Its main terpenes are myrcene, limonene, and caryophyllene, and it has large-to-medium frosty white buds. Sour Glue's aroma is a fresh twist on a classic gas strain, with a citrus diesel aroma, and a peppery, cedar finish.
Or, opt for KRFT Cereal Milk, which is a rare, evenly balanced hybrid strain with creamy berry and fruity citrus notes thanks to myrcene, limonene, and caryophyllene. Its buds are dark green and purple with orange hairs, delicately dusted with sugary trichomes.
These strains are sure to impress even the most experienced cannasseur!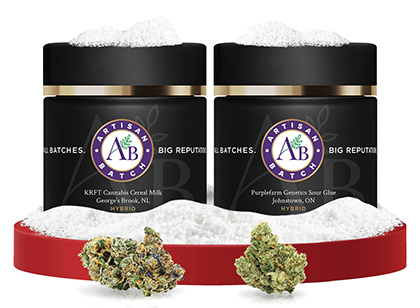 For the Chocolate Lover
Chocolate and the holidays go hand in hand, so get the chocolate lover in your life some cannabis-infused goodies! There are eight different Bhang flavours, so why not create a mix-and-match sampler pack of sorts? Choose from:
THC Candy Cane White Chocolate
THC Cookies & Cream White Chocolate
THC Caramel Mocha Milk Chocolate
THC Ice Milk Chocolate
Caramel Dark Chocolate THC/CBD 1:1
THC Dark Chocolate
THC Milk Chocolate
CBD Milk Chocolate

For the Edibles Newbie
If you're giving someone cannabis, it's your responsibility to make sure you're giving them something they can handle, especially when it comes to edibles. Go for something like the Wana Strawberry 10:1 or Wana Blood Orange 20:1 10-packs. These CBD-dominant gummies have low doses of THC, so they're perfect for beginners or if you don't know someone's tolerance level. As with all Wana gummies, our 10-packs are vegan, gluten-free, and have a cannabis-free flavour.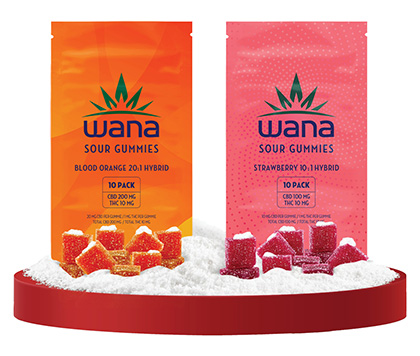 For the Busy Parents
The holidays are stressful for everyone, but especially parents trying to get everything done! When they do have downtime, they may not want to wait for an edible to kick in, which is when Wana Quick Gummies may come in handy. Our Orchard Peach Sativa gummies are the perfect gift for an at-home baking day, while Pineapple Coconut Indica may help speed up relaxation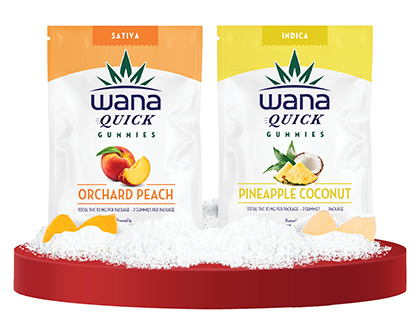 For Stocking Stuffers
Want to give out some holiday baking but don't have the time to bake it yourself? We can help. Slow Ride Bakery has multiple flavours of homemade cookies, including Big Chocolate, Peanut Butter, Spicy Ginger, Merry Cherry Chocolate Cookie, and Festive Sprinkle Sugar Cookie, which you can use as tasty stocking stuffers for your adult friends and family. Each cookie is made with premium ingredients and has 10 mg of THC, so make sure you're stuffing the right stocking!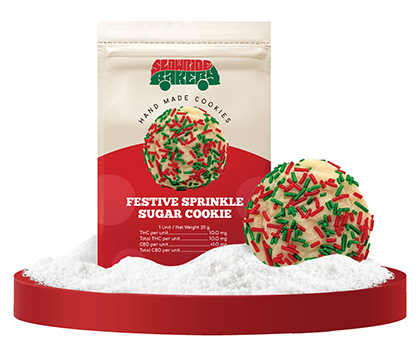 For the Hosts with the Most
Stopping by someone's holiday party but not sure what to bring? Indiva 7-packs of pre-rolls make great host gifts for a few different reasons. For starters, everyone always brings wine, so this is a unique gift to shake things up. Your hosts may also break them out during the party, but sharing a joint may not be at the top of everyone's wish list. These pre-rolls are smaller than regular joints, which means people can enjoy their own. It's a great way to bond outside and to give a gift that's a bit more exciting.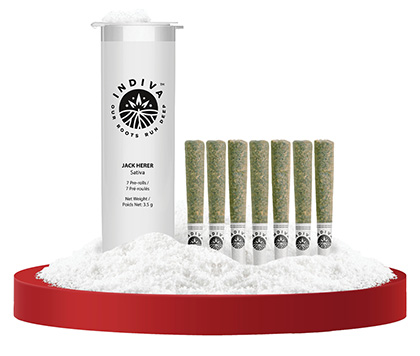 For the Outdoorsy One
We all know someone who loves being outdoors in the winter, whether it's to ski, snowboard, snowshoe, or skate. While those activities should be done sober, everyone loves a little hot chocolate to warm up afterwards! Put together a cannabis-infused hot chocolate gift pack, which includes our Bhang THC Candy Cane White Chocolate hot chocolate recipe. Print out the recipe and pair it with a few bars of Bhang THC Candy Cane White Chocolate and a festive mug!
The most important thing to remember about gifting cannabis is that you should only be giving it to adults of legal consumption age. It's also important if you're gifting edibles that everything is clearly marked and you're giving people things that suit their cannabis preferences! For tips and etiquette,
*Health Canada: It can take up to 4 hours to feel the full effects from eating or drinking cannabis. Consuming more within this time period can result in adverse effects that may require medical attention. The effects from eating or drinking cannabis can be long-lasting. The effects can last between 6 and 12 hours following use.